A.I. Video Analysis
Able to analyze unstructured, general video,provides real-time notifications and data in report form
일하는 CCTV (비디오 레코딩 기능 + 인공지능 서비스)
웍캠 비즈니스 모델
· 5년 계약, 파손 및 분실시 300만 이하 보상
· 1년 A/S 소프트웨어(무상), 두달 동영상저장
· 보고서/Track 소프트웨어(월정액 4만원)
웍캠 고객혜택
기본적으로 설치해야 하는 CCTV를 동일한 가격으로 퀀텀사 카메라 구매를 통하여
방문 고객에 대한 나이/성별 정보와 회원 방문 고객의 상품 구매 정보 파악을 통한
개인별 마케팅 정보 활용 및 MD전략으로 매출확대
웍캠 차별화 포인트
| | | |
| --- | --- | --- |
| 항목 | 자사 | 경쟁사 |
| 가격 | 내부 AI 카메라 처리로 별로 비용 없음 | 외부 Cloud 서버 접속으로 추가 비용 발생 |
| 보안위험 | 내부 동영상 정부 외부 유출 없음 | 외부 유출로 보안상 문제 |
| 처리속도 | 100m sec | 2,000~3,000m sec |
| 설치비용 | 무상(2시간내) | 유상 |
People countiong system
Quantum Solution People Counting System
The People Counting system utilizes time of day/date/monthly/quarterly data.
Through Robovision 3D, the People Counting System is able to analyze the state of visitor access to shopping centers, large discount stores,
small distribution stores, stadiums, museums, and public institutions.
After installation, the counting sensor is able to detect within the defined sensor detection area.
This area is not visible to the eye.
2D Vision Technology using 2D sensors check curvature and depth information.
Accurate counting is possible even with active passer-bys moving through the area.
Quantum Solution's People Counting System offers exceptional accuracy - over 98%.
Unlike other camera methods, Quantum Solution's People Counting System counts accurately in low-light situations, and is not affected by shadows.
Additional cameras can be attached for a convenient and easy setup.
Various data can be extracted, and used for marketing purposes using "Quantum Pro" software.
Even in a crowded space,
accurately track ins & outs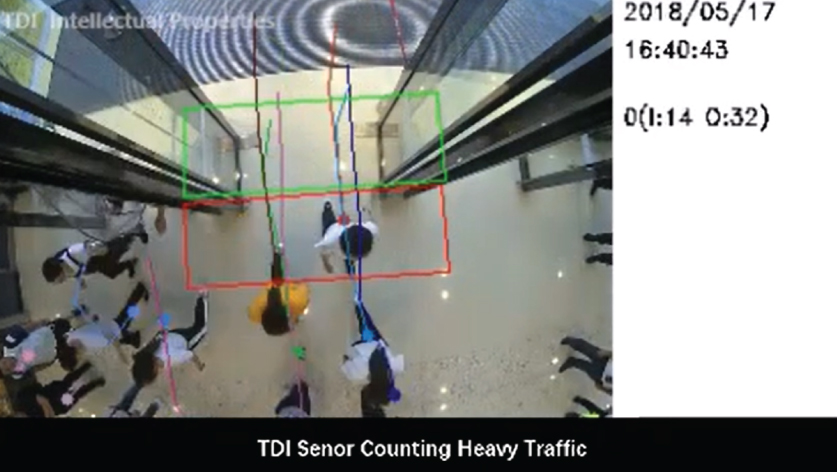 Camera




- LED : 66mm x 15mm x 33mm

- Lens: 2.2mm to 12mm high, 2.4m to 10m


- Power (POE) : C max. 10 watts, external 5 V DC (2 A)


- Weight: 0.2 kg

- Upgradeable (remote software upgrade supported)


- Internal memory: 8GB EMMC, 2GB DDR3




Network




- Specified-Cable: CAT 5e

- Internet: Single channel 10/100 Mb (RJ45 Connector)


- Address Type : DHCP or IP

- Time synchronization: SNTP, Daytime, Protocol, and Proprietary


- Data transmission: HTTP, SMTP, FTP, XML



Two-way Counting System
- Draw virtual lines to distinguish IN/OUTs and display the count number
on the screen.
- You can view the counting data by month, date, and time.
- Set up exclusionary zones and It's possible to track movement.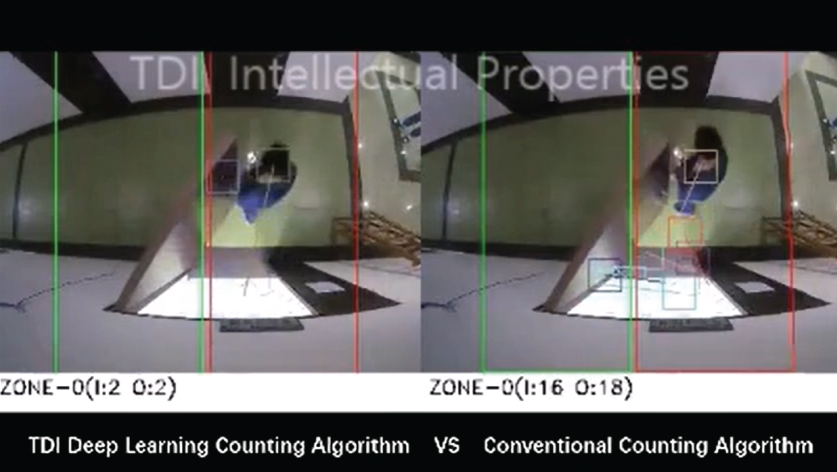 - Infra-red 3D system ensures outstanding 98% accuracy
- Filter shopping carts, children, and shadows using
the filtering system
- Works error-free in crowded spaces
- Two-way counting
- Operate without errors even in dim lighting
- Remote configuration and management
with Robovision 3D devices
- Easily adjust and manage with a web interface
- Report provided via email and FTP data
Manually define detection zones, so you only track people
in the zones you want.
Unwanted data, such as employee traffic, can be removed.
: Electronic Products Store :
Shopping centers, supermarkets, department stores
: Museum :
Parks, exhibition halls, government offices,
outdoor parks, performance halls
: Small-business stores :
Cafe, convenience store, restaurant,
beauty shop, PC room
Report
- Number of entering customers
- Age / Gender separation
- Total number of customers passing by
- Conversion rate calculation
- Number of customers purchased /
Number of customers admitted

- Number of entering customers / Number of passer-by
Using Quantum Pro software
Data can be extracted and used for marketing.